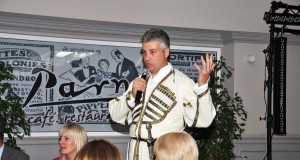 Tamada is a Georgian name for a toastmaster. Georgian party – supra never takes place without a toastmaster called Tamada. This tradition was later spread internationally, particularly in former soviet countries. Currently Tamada is living tradition although it comes from unremembered times. Table culture of Georgians suggests that the tradition of Tamada is as old as the nation itself. The oldest evidence of Georgian toastmaster tradition is a little bronze statue of Tamada dated back to VII c BC – discovered in western Georgian town of Vani in 2004.
Toastmaster position has a crucial meaning for any Georgian party called Supra. Tamada's duty is to chair supta by proposing certain order and the toasts. No one is allowed to toast without toastmaster's permission. A person who continues a toast with request of Tamada is called Alaverdi. Others attending the party make their own version of the toast proposed by Tamada. Georgian toasts have certain order that Tamada usually has to follow according to the traditions of Georgian supra.
We believe that this tradition has an important meaning for the mankind. Therefore we feel it important to share our philosophy with everyone, particularly with our guests. This is why Tamada is a part of the name of our company – also one of the reasons to turn this interesting tradition into a service. We do have toastmasters a part of our service and very frequently part of our tour programmes.