Qvevri: the oldest wine vessel
Qvevri is the oldest known vessel historically used for the fermentation and storage of wine. Mystical and practical at the same time, the oldest sample of the Qvevri dates back to the VI millennium (8,000 years ago). The oldest sample was found in the area of Dangreuli Gora in central Georgia. This is the oldest and most essential part of winemaking which still has a significant impact on the living tradition of viniculture in Georgia. Georgians still ferment and store their wines in these vessels. Since 2012 has been protected Qvevri by the government of Georgia as one of the oldest known non-material heritage practices of the state. In 2013 UNESCO awarded the Qvevri winemaking intangible heritage status.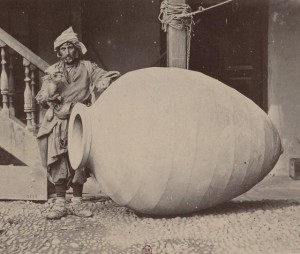 Qvevri forms and sizes
All Qvevri have an egg-type, spire-bottom, with a narrow neck and a flat, circle-like top. All these vessels have a tip or a spire at the bottom. The practical meaning of this spire is to keep Qvevri in a vertical form while its buried in the soil. The Qvevri volume range from several hundred liters to 8,000 litres. In General, Qvevri are most frequently have a 1-2-thousand-liter capacity.
How are Qvevri made?
Qvevri are always made of raw clay extracted from clay-rich soil. It takes 3 months to make them and they can only be made by hand. There are no ways to mass produce Qvevri. Qvevri are slowly built by a Qvevri-maker and as soon as it is completed it is fired in a special oven. After the heat of fire turns it into a red Qvevri, the vessel is ready to be used.
How are Qvevri used?
Qvevri are buried in soil in order to maintain exacting temperatures of around 13-15 degrees Celsius during fermentation as well as storage. The chemical processes taking part in Qvevri leads to natural filtration and the formation of crystal-clear wines. Substances such as metals naturally existing in clay also influence the process of fermentation and preservation of wine in the Qvevri.
Qvevri wines
Producing wines in Qvevri does not only mean using this vessel in the place of oak barrels or stainless still. Qvevri wines are made with active skin contact where fermentation is followed by the natural filtration of these wines. After self-filtering, wines are separated from skins and placed in new Qvevri and hermetically sealed for storage. Qvevri technology differs from region to region. Kakheti (Eastern Georgia) Qvevri wines are fermented for a long time with all of the pits and skin of the grapes crushed. Imeretian (Western Georgia) Qvevri wine fermentation involves only part of those pits and skin (usually 1/3) and are therefore lighter than Kakhetian Qvevri wines. Qvevri wines today are produced by many Georgian wineries, but local village wine producers are still the most popular. Last years some innovative wine producers in Italy and France started making wines with this ancient winemaking method.
Qvevri as a ceremonial attribute
Georgia also has a special type of Qvevri known as the monastery Qvevri (also known as Zedashe). There is also wine that caries this same name (Zedashe) and is used for religious ceremonies. The meaning of this Qvevri comes from pre-Christian religious traditions that merged with Georgian culture. In the mid and late bronze age Qvevri was also used as a sarcophagus, an essential part of the ceremonial burial of in those days.
The importance of the Qvevri to Queen Tamada
The Qvevri inspired our company's logo and we're proud to have it as a symbol of what we believe and what we stand for at Queen Tamada. Georgian Qvevri wines are an essential part of our wine tour programs – We believe there is no better introduction to Georgia than a drink of natural wine from the traditional Qvevri.